A very popular plugin for viewing images and video in a popup window.
But most of the options available for setting only in the PRO version. It's frustrating, because there are solutions where the same full range of options is completed in the basic free versions.
It is also irritating excessively bulky banner calling to buy PRO version of the plugin. Complementing the presence of irritation all inactive missile defense configuration page options. Why look at them if they are not available? It was enough to have a modest presence of references to describe the benefits of the expanded version.

So, for fans of this particular plug-budget solution, we offer a complete set of the required configuration options and make the settings page simpler and convenient.
Modification: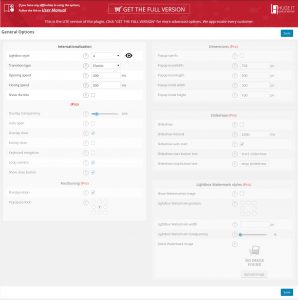 After the plug-in modification, you will have access to all options PRO version, except for the module overlay watermarks. Possibly, in the future it can be also realized. But there are specialized precisely on watermarks good plugins. Therefore, there is not much point in doing a food processor of a simple user-friendly plugin.
• Additionally Fixed bottom SAVE button.
---
See a working example of a modified plugin Excited! Testimonials Showcase.
Get access to the description page of the modification process and download files.