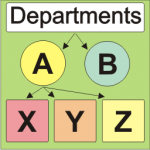 Plugin "Org. Departments" allows you to create a Hierarchical Structure of Departments. And use this Structure in relation to the User.
In the Profile of each User, you can select one or more Subdivisions to which this User is related.
Additionally, it is possible to temporarily Include / Disconnect Users in this Subdivision Structure, without excluding him from a particular Subdivision. This can be useful in some internal situations, such as Academic Leave, etc.
= Futured =
* The number of Levels and Sublevels is not limited.
* The current User does not have the ability to edit his Divisions to which he belongs. The Administrator or Human Resources Manager is expected to establish these links.
* Add Column: "Department" on Admin -> Users List.
* Option: Show Column: "Department" (On/Off).
* Use ShortCode [org.departments] for Show Departments Tree on FrontEnd.
* Search argument for ShortCode [org.departments search=true]. Use for Search in Departments and Members.
Continue reading "Org. Departments"