This plugin auto publications on Twitter, there is one important advantage compared to other: directly, you can enter any text in the editor, and immediately publish it on Twitter. And it does not need to pre-save the record itself post. Plus there is a character counter.

But there are also unpleasant feature – the ability to publish images available only in the PRO version.
That is what we will correct.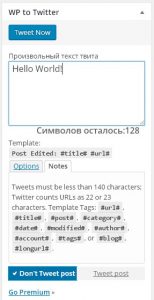 In other Twitter plugins necessarily need to first save the record. Sometimes it is very convenient, especially in those plug-ins that do not count. That is, if the total text turned out to be more than 140 characters, then you need to re-adjust the text, save the record, and only then click Publish Tweet. (sometimes it does not work even with 3 attempts).
Although, in the auto-publishing mode, when the plugin itself generates text from templates of header, tags, and the announcement, then everything is fine. Here are just trimming the announcement may look bad, and your readers will be unhappy.
Modification:
This is a small part of the possible PRO version function is activated.
We wondered just that. Therefore, the rest of PRO option we have not even considered. If anyone needs more, then we can discuss.
See a working example of a modified plugin WP to Twitter.
Get access to the description page of the modification process and download files.